Vineyard Vines
-See What's New for 2023
By David Theoret
Vineyard Vines makes quality apparel that has typically been associated with water. A few years ago, I saw PGA TOUR pro Patrick Reed wearing a great-looking polo with a whale on the chest. I did my research and found out it was a new brand called Vineyard Vines.

Whether you're out on the boat or playing a round of golf, you're always looking to stay warm on a cool spring morning. So ladies, why not look good at the same time? With Vineyard Vines' Garment-Dyed Heritage Cotton V-Neck Sweater, you can do both. It features ribbed trim at the V-neckline, cuffs, and hem. The full-length sleeves offer warmth but push up easily if that's more your style and the embroidered smilin' whale on the left chest lets others know your favorite brand. It's chic, polished, and iconic and is garment dyed for color variation which makes each garment unique. The Garment-Dyed Heritage Cotton V-Neck Sweater is available in sizes XXS - 3XL and in Neon Confetti or Sea Swell.

And ladies, what's better than a Shep? Why, a SuperShep, of course. The Dockside SuperShep picks up where Vineyard Vines' nautical-inspired sweatshirt left off. The cozy, terry-knit fabric features a quarter-zip neck with both snaps and a zipper, and a soft collar with a ribbed interior. The welt front pockets offer plenty of storage for your golf gadgets and the signature Shep Shirt shoulder details and woven trim throughout add a classy yet comfortable look. The Dockside SuperShep is available in sizes XXS - XL and in White Cap only.

Vineyard Vines' golf tops are tops in the business. The Palmero Sleeveless Keyhole Golf Polo is a fitted garment with a keyhole neck and contrast collar detailing and features a figure-enhancing panel detailing with a curved hem. This polo is sewn from a moisture-wicking and breathable performance fabric treated with UPF 50 sun protection and brrr° cooling nylon which has been proven to keep you cooler. It's perfect for just about any activity on or off the golf course. It's available in XXS - XXL and in two colors: Pink Cloud Heather or Sea Swell with a Micro Putter print.

The ladies' Surf Polo is sure to turn some heads. It's soft-washed for a lived-in feel and garment-dyed for color and texture which makes each style unique. It's the same fabric that Vineyards Vines uses in their Surftees, with a slightly heavier feel. The Surf Polo features a polo collar with a notch neck placket and a curved hem. There's a patch pocket at the chest and a locker loop at the back neck. The Surf Polo is available in sizes XXS - XL and in several colors including Neon Sunset and Neon Confetti.

Another great golf top for the ladies is the Palmero Zip-Placket Golf Polo, a relaxed-fit garment with a zippered placket, retro-inspired striped collar, and cuffs. The moisture-wicking and breathable performance fabric will keep you dry and its brrr° cooling quality will keep you cool. UPF 50 sun protection keeps the sun's harmful rays at bay. It's available in sizes XXS - 3XL and in Ice Water, Sea Swell, or Blue Blazer.

The is a fixed wrap skirt with retro-inspired stripes and features a pull-on style with a contour waistband. It's sewn from a moisture-wicking fabric with built-in stretch and a comfy knit short lining with pockets. It's so lightweight and comfortable you're bound to score better! The Colorblock Wrap Performance Skort is available in XXS- XXL and in either Blue Blazer or Pink Cloud.

There's quite a bit of menswear that's appropriate for golf too. The Printed Sankaty Polo is a best seller and is back again this year in a couple of new prints: Ocean Breeze or Fleur de Leaf Pink. It features a classic, relaxed fit and is quick-drying and moisture-wicking with UPF 30+ sun protection. There's built-in stretch for comfort and movement and the wrinkle-resistant fabric produces a clean look. It's named in honor of the Sankaty Head Golf Club and Sankaty Lighthouse on the eastern end of Nantucket.

It has to feel special when Vineyard Vines names a shirt after you. That's exactly how the Striped Cam Shirt got its name. It's named after a guy that worked there named Cam who liked two things: fishing and being comfortable. I found that it's great for golf too. Worn untucked, it provides all the mobility you'll need to get through your golf swing. It's basically a collared sweatshirt that's being re-introduced by the company. The Striped Cam Shirt is available in XS - XXL and in either Moonshine or Ultimate Gray. No word on how Cam's doing or if he's getting royalties.

A warm comfortable garment on a chilly morning on the course is the Surfside Hoodie. It's garment-dyed in vibrant colors for a worn-in look and super-soft feel and the Hood has adjustable drawcords. There's a front kanga pocket, ribbed cuffs, and hem. It will become a go-to golf garment in cool weather and is available in Neon Sunset or Sea Swell,
Vineyard Vines' 9-Inch Stillwater Golf Shorts are the perfect shorts for boating or birdies. The flexible waistband, built-in stretch, and lightweight performance fabric add up to unparalleled comfort. The water-resistant fabric helps keep you dry and the UPF 30+ sun protection keeps you safe. But wait, there's more! Like stretch pocket bags for all your golf gadgets, rubber-coated buttons and zipper closure, and a Hidden zippered media pocket for even more golf stuff. The 9-Inch Stillwater Golf Shorts are available in waist sizes 28 - 46 and in six vibrant colors.

If pants are more your style, the Garment-Dyed Twill 5-Pocket Pants could easily become your favorites. They're made from soft, washed cotton for a slim, tapered fit with added stretch and a perfectly broken-in look and feel. They feature a 5-pocket construction with metal rivets on the pockets. There's a leather brand patch with a whale disc on the back. The Garment-Dyed Twill 5-Pocket Pants are available in sizes 28 - 38 and in Gray Harbor, Ocean Splash, Stone, or Sage Olive.

Guys, you'll need something that holds up those new Vineyard Vines pants, so check out the Etched Sportfisher Leather Belt. This stylish belt has a leather body, brushed silver buckle, with a Sportfisher and water-etched motif.

When it comes to relaxing, Vineyard Vines has you covered (literally) with great-looking tees for guys and gals. For the ladies, there's The Painterly Golf Cart Scenic Long-Sleeve Pocket Tee. This stylish tee fits true to size and is designed for a regular fit. It features a ribbed collar and cuffs and a chest pocket. There's a stylish golf cart graphic on the chest pocket and center back. This stylish tee is available in XXS - XL and in Ice Water with some cool graphics. A lot of hockey players turn to golf and are pretty good at it. If you're one of them like me, you'll love the Ice Hockey Whale Long-Sleeve Pocket Tee in White Cap. This soft-washed cotton T-shirt features a ribbed collar, self-cuffs, and hem, all in a classic relaxed fit that's perfect for everyday wear. The graphic of the helmeted whale on the chest pocket and back is destined to be a classic!

The same goes for another guy's favorite tee, The Golf Broken Tee Long-Sleeve Tee has all of the same qualities in Jet Black. There's no graphic on the back, but the broken tees graphic on the chest pocket are a nice touch.

When it comes to layering this season, why not try something different? How about cashmere, after all, it's hard to beat. And when it comes to cashmere, Vineyard Vines has a couple of choices for both men and women. All of Vineyard Vines' cashmere garments are made from high-quality, 100% grade A fibers, so it's naturally lightweight and breathable. And the fact that it's soft and warm without the bulk makes it perfect for cold weather days on the golf course. For the ladies, there's the Seaspun Ribbed Hoodie. That's right, a cashmere hoodie. This year's model has been updated with ribbed details and features a split-neck design with a self-draw cord and delicate cuff vents. It's a must for spring layering. The Seaspun Cashmere Ribbed Hoodie is available in sizes XXS - XXL and in Neon Sunset or Deep Bay.

Guys have a couple of choices. First is the iconic Cashmere Cable Crewneck Sweater. This great-looking garment features a ribbed collar, bottom hem, and cuffs and the cable knit pattern delivers an elevated look. It's a luxury layer you'll want to wear again and again. It's available in sizes XS - XXL and in Deep Bay.

My favorite is the Cashmere Fisherman Rib Quarter-Zip Sweater, available in sizes XS - XXL and in several colors including Deep Bay, Jake Blue, Jellybean, or Light Heather Gray. This garment is naturally soft, lightweight, breathable, and warm. It features a distinguished fisherman rib texture with a zippered placket, ribbed cuffs, and hem. Put it on and you'll feel like the best-dressed guy in the room.

This is just a small snapshot of what Vineyard Vines has available for men and women for golf this year. To see more, visit their website at www.vineyardvines.com.

Article Tags: Vinyard Vines Golf apparel, Jim Nantz, golf shorts, golf polo, men's golf shorfts, women's golf dress, golf skort
Revised: 05/18/2023 - Article Viewed 1,068 Times
About: David Theoret
---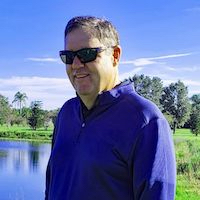 David Theoret has been in the golf and golf travel industry for over 10 years, primarily selling online advertising. For the past seven years, he has also been a golf writer, reviewing golf courses, resorts, destinations, equipment, golf apparel, and training aids - the latter of which never seems to help. David's articles and reviews have been posted on many golf travel and equipment websites.

Growing up in Southwestern Ontario, Canada, it was naturally assumed he would play hockey. Beginning at the age of 3 and continuing into his late 30's, he did just that. However, after one too many pucks to the head, he realized that golf was a lot easier on the body (whoever said hockey players were slow) and took the game up.

After moving to Florida and accepting a position with TravelGolf Media (now part of GolfNow) his love for the game grew exponentially. Most Saturdays you will find him on a course somewhere in Florida or on the practice range reinforcing his bad habits. David plays to a 10 handicap - unless there is money involved in which case it goes considerably higher. He currently resides in Lakeland, FL with his wife Belinda and their two "kids", Madyson and Molly.

---
More Articles by David Theoret